-
WOOSH News
(
http://www.oldrocketforum.com/forumdisplay.php?f=40
)
| | |
| --- | --- |
| X-wooshprez | 06-16-2014 10:37 PM |
---
Kelly Challenge entry

So, this is it. I thought that I would come up with something on the pyramid on top of a pyramid scheme. The No Stack pallet topper strikes again.
After reading the article about the upscale Deuces wild rocket in Sport Rocketry I decided to build this with a cluster of canted motors. Not to be outdone, it will not need a launch pad to deploy the 2nd stage (ascent stage). That is Piston launched by a built in piston launcher.
I have kept it light weight but it has 2 (read 'em two) of those old giant plastic dynasoar parachutes on board.
Check it out: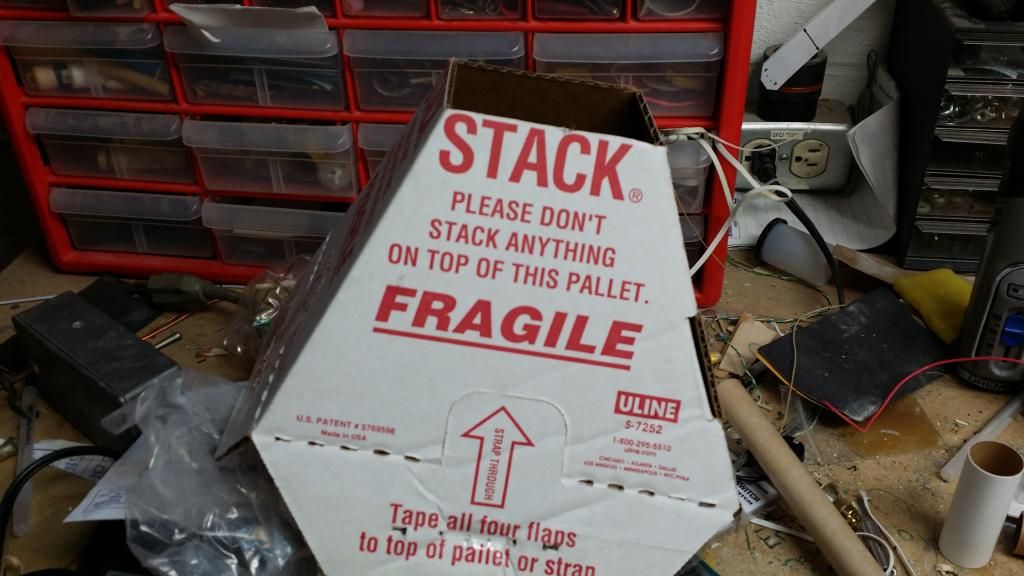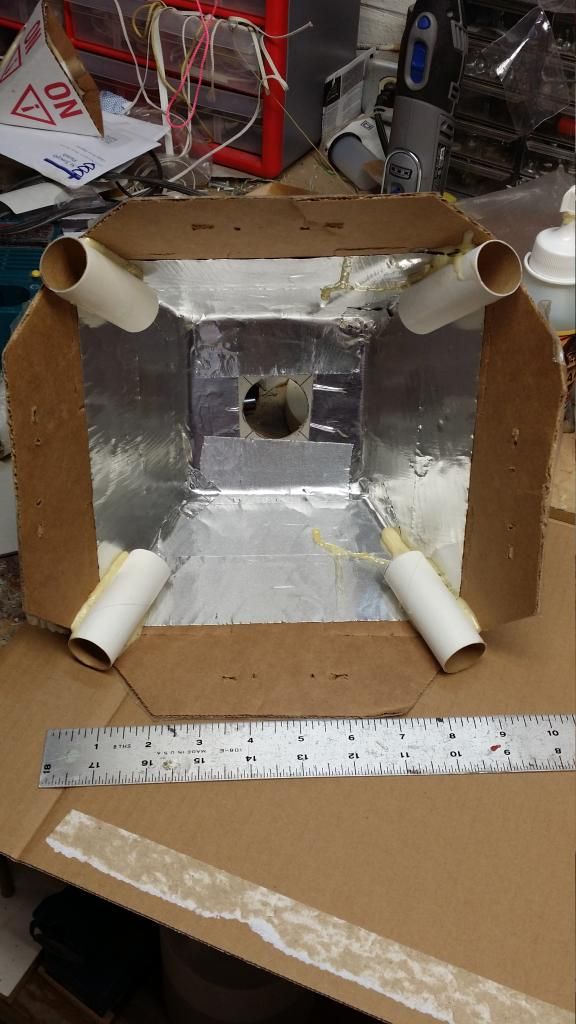 Lined the inside with aluminum tape, those four D12-3 motors will be spewing out all kinds of ejection charge rubble.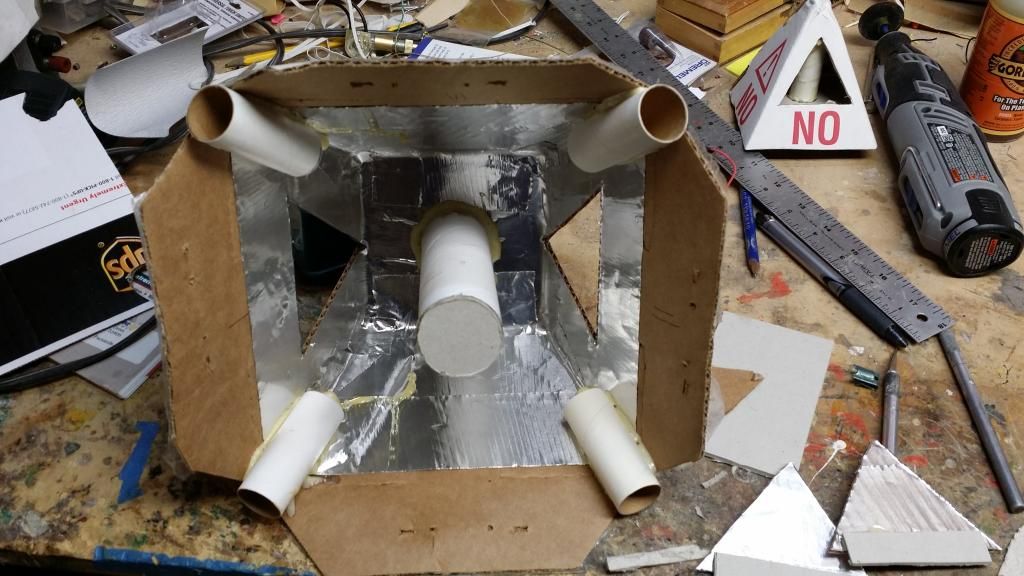 Here you can see the triangular openings cut into the sides to allow the parachutes to pop out and with any luck allow the gentle descent of the model. Will they both deploy? Will it land right side up? Only the shadow knows.
| | |
| --- | --- |
| X-wooshprez | 06-16-2014 10:44 PM |
---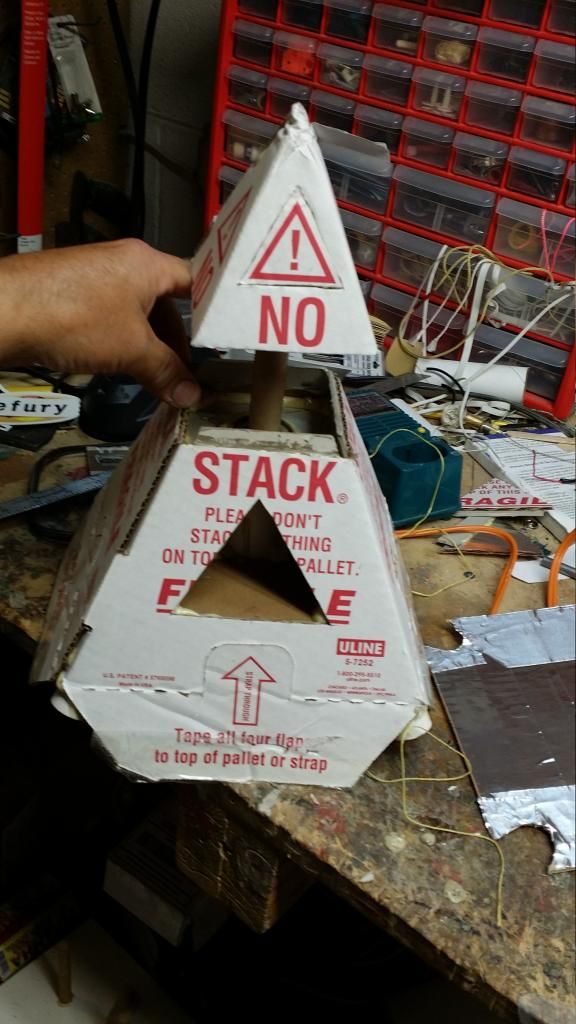 Here is the model with the upper stage assembled onto the picton launcher.
The triangular hatch on the ascent stage will carry the cheese sample to it's date with destiny.
It has no real recovery system. How much can it hurt?
Bottom of the beast with the lower bulkhead installed. Gorilla glue was used throughout. I like the way it filled up my completely hacked up joints and sealed up around the motors so well. This thing was put together in a few days.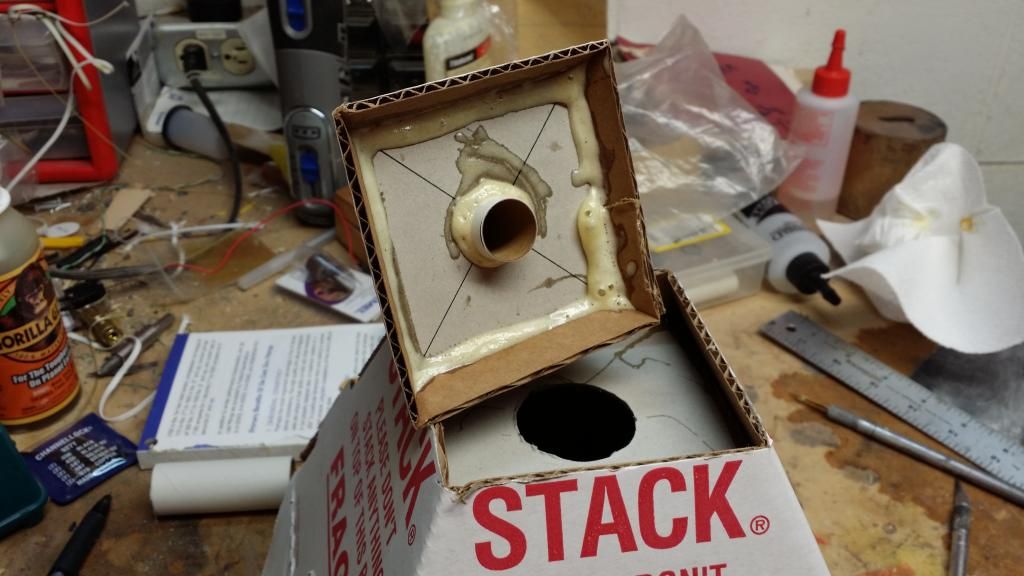 Bottom of the upper stage. Going to go up on a C6-3. The 4- D12-3's in the bottom will be lit with e matches as I really want to see this thing go up firing on all thrusters.
| | |
| --- | --- |
| chadrog | 06-16-2014 11:38 PM |
---
This is gonna be awesome!
| | |
| --- | --- |
| vdopro | 06-17-2014 08:08 AM |
---
It's a shame about the "No Stack" thing. Otherwise you could add another one and make it a two stage! :-D
| | |
| --- | --- |
| X-wooshprez | 06-18-2014 08:07 PM |
---
Good pic of the "Explosive bolts" that hold the on/no rocket onto the bottom section as well as the wire leads that are soldered onto the estes igniter sticking out of the side.
If I forget to remove those pins before firing the upper motor all will be ruined eh?
I went to Hobby Lobby and bought my D12 motors today.
It is a shame that there are no Mom and Pop hobby stores left in my neck of the woods.
Perhaps when I retire I'll open one.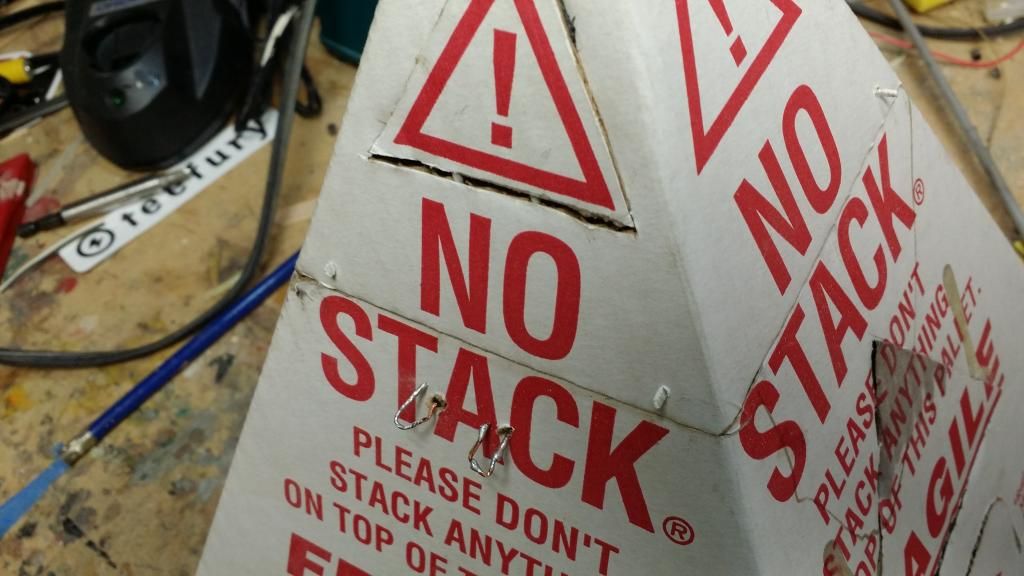 All times are GMT -5. The time now is

12:59 AM

.
Powered by: vBulletin Version 3.0.7
Copyright ©2000 - 2018, Jelsoft Enterprises Ltd.