03-18-2023, 10:06 PM
Sometimes collector

Join Date: May 2008

Posts: 1,530
Vega
---
Title: Vega
Kit number: KV-25
Background Information brief: The Semroc VegaTM was released in 1969 as the fifth Semroc Kit. Designed to be a large rocket for beginners, the VegaTM was inspired by the early Estes Big Bertha plans. Since the Vega was Semroc's fifth kit, it was named after the fifth brightest star (not counting the sun.) The Vega also was the forerunner to the Semroc Goliath. To cut down on inventory, the Vega was redesigned with slightly larger fins, the body tube was cut to provide a pay- load section and released as the Goliath. Since it was possible to build and fly the Goliath with a single engine, the Vega was only sold for one year. The Vega was part number KB-5 and retailed for $2.49 when it was first introduced.
The Retro-Repro Vega is updated by using laser cut balsa fins and a Kevlar® shock cord attachment. The original balsa nose cone and body tubes are used. An engine hook was added to make engine mounting more convenient. A single 12" para- chute is provided.
Designer: Carl McLawhorn
Release Date: 07/27/2005
In Production: 2005-2014
Requested attachments:
Decal scan
Fin Scan
Fin scans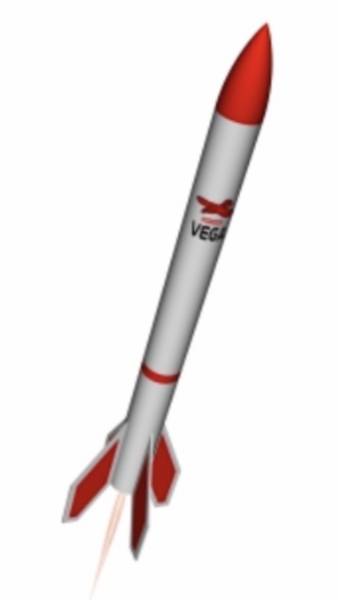 ---
Last edited by 5x7 : 03-18-2023 at

10:27 PM

.